I get a lot of emails! Customer emails, your-website-needs-attention emails, restaurant emails…. because Applique CAFE and all. Well a few weeks ago I got an email that caught my attention. It was from a company called Brightech asking me if I was interested in trying out one of their magnifier lamps. I turned 38 46 this year, and to be honest, I can't see much of anything close up without readers. Like my food is blurry on my plate in front of me. I can see far away just fine, but anything close up is a struggle. The whole turning-40 and needing readers thing is legit. So YES, MAGNIFIER LAMP?? Sign me up!! I chose the LightView Flex Clamp Lamp because I liked the idea of it having a clamp to clamp on to my desk, and I liked that it seemed small and easy to maneuver around my sewing room. It has 175% magnification so I've found it wonderful to use in a variety of ways without straining my eyes. Plus I can use it with or without my readers. The neck of the lamp is flexible and you can maneuver it however you like.
First up, clipping those tiny threads from an all-thread embroidery design I was testing for a project the other day! I used my lamp and could easily see a few of the tiny jump stitches and was able to trim them closely and easily because I could SEE!!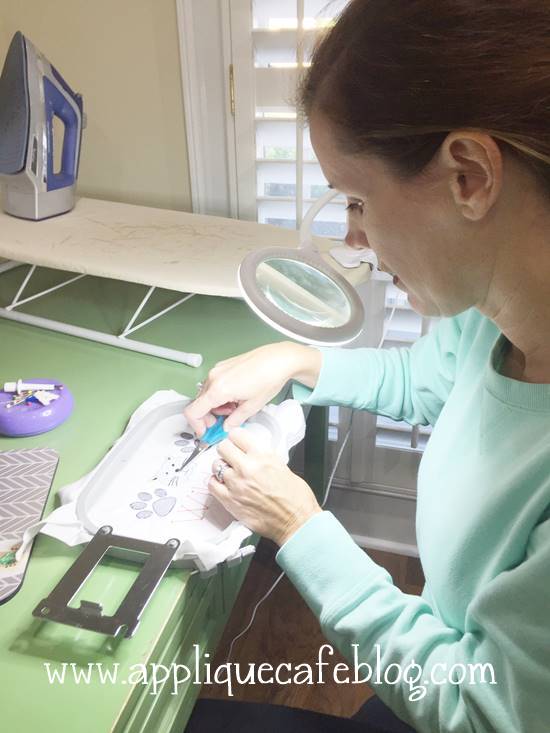 Photo creds: my 10 year old
Who else strains to see the TEENY TINY numbers on your spools of thread? Even with readers on, I have a hard time telling a 3 from an 8.
I've used it to see the water soluble stabilizer left in my letters after I've pulled the stabilizer away. Water soluble is pretty clear and sometimes hard to see. Magnifier Lamp….. I am able to see even the tiny spots in the loop-ty loops and get rid of them!
Cleaning my bobbin area…. you can literally see every stray piece of thread and a million specs of dust!
I, of course, have used my lamp all over my sewing room the past couple of weeks doing embroidery and machine maintenance. My daughter borrowed it also to do a little crafting with her perler beads. It clamped on to our kitchen counter easily and the lamp is small enough that it's easy to move around the house.
There are other magnifier lamps available and several come in white or black. There is a Table Flex that has an interchangeable base and clamp so you can use it as a table lamp OR attach the clamp wherever you'd like. They also have bigger magnifier lamps with rolling bases and floor magnifier lamps. Brightech also sells the popular string lights you see on patios and at restaurants as well as regular decorative floor and cool table lamps if you are looking for something for your home. They offer free shipping with US orders over $50 and their prices are great too! Click on any of the links or HERE to check them out!
I have to admit I have also used the lamp with my kids and have decided I would love to be an Aesthetician in my next life. We've had ear clean-out sessions (EWWW!!! – using a safe wax removal kit of course) and I've also used it to check out my 15 year old's complexion. It's AMAZING what all you can see with this lamp! Unfortunately I got to see his bad shaving job too. 15 year old mustaches are no joke.
Please email me if you have any questions! Again, click on any of the links or HERE to check them out for yourself! I've only had mine for a couple of weeks so I'm just scratching the surface of what all I can use it for in and around my sewing room and around the house!