Thank you for all the kind comments and emails regarding my last blog post! I'm feeling like 99.9% normal as of today, and I'm looking forward to driving again (hopefully tomorrow)! Other than fighting a nasty sinus/cold thing, I don't feel like 2 weeks ago I was near death. Not really near death, but you know the feeling. I forgot to post last time the funny thing that happened that Friday morning as I was getting ready to "check out" of the hospital. Walgreens called me in my room because they were to bring me any meds that were prescribed to my "bedside" before I got out. The poor girl who called me ask "What time is your baby getting discharged?". I wonder what she would have said had I replied "My UTERUS was discharged on Tuesday. Bring me my drugs!!!!" I was on the OB floor, so I guess she assumed I had given birth! Jeff & I got a good laugh out of it.
Who's ready to move on from Christmas fabric, designs, etc?? I AM! We have already listed a couple of new Valentine designs, including our Valentine Dogs and our Zig Zag Heart. How about some Valentine fabric? These are all new fabrics from TJ's Fabrics and I don't know which is my favorite!
OK so these aren't technically Valentine, but they are NEW and CUTE!! I will TRY to include brand info for all of these, but some may not have the writing on them so you can check them out on their website. Check out the Newest Additions tab on the Online Store page or Home page.
Above: All Riley Blake Sweetcakes ~ Petals Pink, Strawberries Blue and Sweetcakes Blue.
Now on to some great Valentine fabrics! Love the red and pink together!
Above: Riley Blake Hello Sunshine ~ Dot Red, Plaid Red, Apple of My Eye Herringbone Red and Michael Miller Ta Dot Pink (I THINK?)
Above: Riley Blake Chevron Pink, Robert Kaufman Spot On, Moda Cherry on Top Strawberry and bottom right, ?? not sure what it is. It might be Moda also.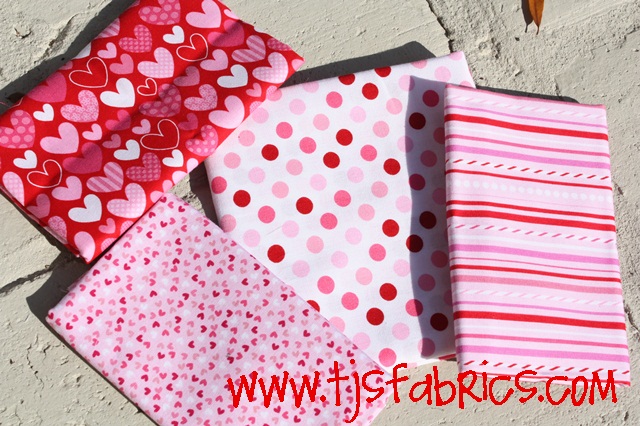 Above: Riley Blake Sweetcakes Heart Red (LOVE), Sweetcakes Love Pink (tiny hearts), Robert Kaufman (middle), and right Riley Blake Sweetcakes Stripes Pink.
Above: Robert Kaufman Remix Chevron Red, Riley Blake Sweetcakes Stripes Pink, Fabric Finders Chevron Rasberry, Riley Blake Chevron Red, Riley Blake Sweetcakes Stripes Blue and bottom right, Fabric Finders Chevron Red.
Sorry I didn't link each one, but you can go to their website and search by Designer, look at all new fabrics, etc. They are all easy to find! Have a great day!
p.s. Today is the last day to take advantage of 25% off gift certificates at Applique Cafe!