Happy Valentine's Day! We are drying out down here in South Alabama. It rained for 40 days over 3 days here, Sunday through yesterday. Like SOLID RAIN. It was pretty miserable! We have an empty lot next door to us which has some major drainage issues. Factor in 3 days of rain and we were tickled to have ducks swimming around as if it were a real pond or lake. The sun finally came out today and we're getting our sanity back!!
Last week I monogrammed 6 bath towels, 3 hand towels and also 4 wash cloths. The bath towels took 48 minutes each to sew! I used Monogram Wizard Plus "Candlewick" font in FILL STITCH. They turned out great, and I am envious of the new towels (that belong to my customer)!! More info on the monogram ~ the size of the entire monogram was 4.79″ tall X 6.96″ wide. Stitch count was 27,617 stitches and I think I had my machine set on 800 stitches per minute = 48 minutes! The hand towels and wash cloths were a breeze and pretty fast.
She chose a tone on tone color scheme! It looks great and very elegant!! For towels I use iron on tearaway on the back + solvy water soluble on top. Hoop it all! The tearaway and solvy then peel right off when I'm done.
Now for my "repurpose" part of the post, which is a very popular term used these days for furniture and such. Not sure if it applies to clothes, but it sounds good for the purpose of this post. We have a few consignment sales here in town before spring/summer and fall/winter. I went last week and found this cute dress for like $12. I have found cheaper dresses w/ monograms but this was super cute for summer and I could tell by looking at it I could whip it in to shape. Yes, my daughter's name is Mallory, so the M would work. But…. this was a pretty bad monogram job. No offense if the monogrammer person is reading this. I don't think any stabilizer was used, and it was picked and just didn't look good!
The fabric was gathered and some of the thread was coming loose. Not good.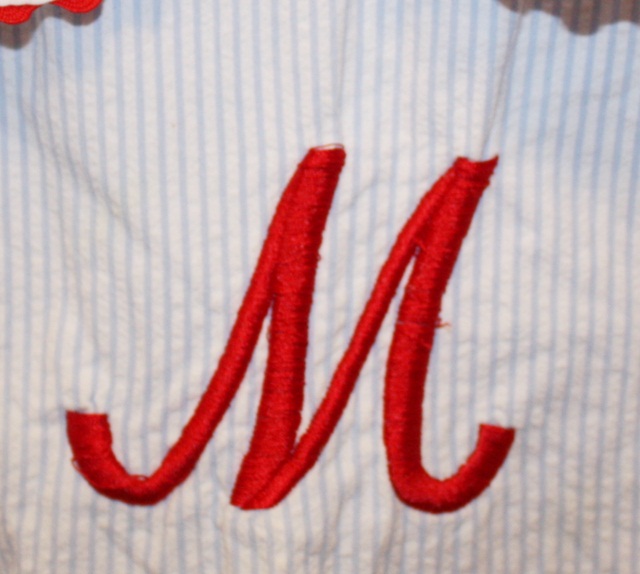 Looking on the back side of the monogram, it was loose and I knew it would be super easy to remove! Very little bobbin thread showing = again… not good.
I was able to remove all of the monogram with my regular little scissors that came w/ my machine. That's how loose the stitching was! I cut through the entire "M" and then removed all the thread.
As you can see the fabric is gathered underneath the monogram. I found no trace of any stabilizer.
This was an easy one to remove!
After I got it all removed, you could see the little holes from the previous "M". Not a problem!
I find that a little water and ironing will do wonders! Looks much better below, and I think once the dress is washed you will barely see any remains of the monogram.
Today I finally got a chance to re-monogram the dress and it looks precious! I used Monogram Wizard Plus "Pendant" font, and added a couple of dots on each side (layered in MWP – SySerif SyS 26, size .75 – layer 2 and 3). I also made the M wider in MWP (Letter Width 125 I believe — default is 100). This will be a cute $12 dress for summer! As you can see below, you can barely see any remnants of the previous M! I really really really like this "M" font.
As I said, I monogrammed 13 towel items in the past week. Today I knew it was time to CLEAN my bobbin area. It was full of lint. See my last post on PR650 maintenance. I dusted it all out using my brush and also Qtips and alcohol (not the drinking kind). I also cleaned the bobbin case and changed my right 3 needles which are used the most. I normally change all 6, but just changed them recently so I only changed the right 3.
While I was in a cleaning mood, I decided it was time to "clean" my thread stand and thread and organize all my thread by color. I took all of my spools off and used a towel to wipe my stands, which are hung on the wall. I have 3 June Tailor stands and then 1 big 5000M stand I got from www.sewingmachine.com. They get dusty! I also wiped my thread spools off with just a dry towel to knock any dust off.
Isn't it pretty?? Wow I have lots of greens!!
I organized my big spools last night.
I mostly use Isacord and Exquisite thread, but have a few other random spools as well!
In my Expedit cubby I have a whole cubby devoted to random thread organized thrown in there. These are extra colors or colors I rarely used. Some variegated in there too I've never used.
All organized by color! Yes, I was laying on the ground taking this photo!! Isn't it pretty? Taking bets on how long this will last…
I have waaaaayyyy….. too much thread. But, I honestly use most of it! Especially all the pinks and greens!
Hope you all have a great VALENTINE'S night!